Joe Graham reviews Jim William's book, published by Merrell.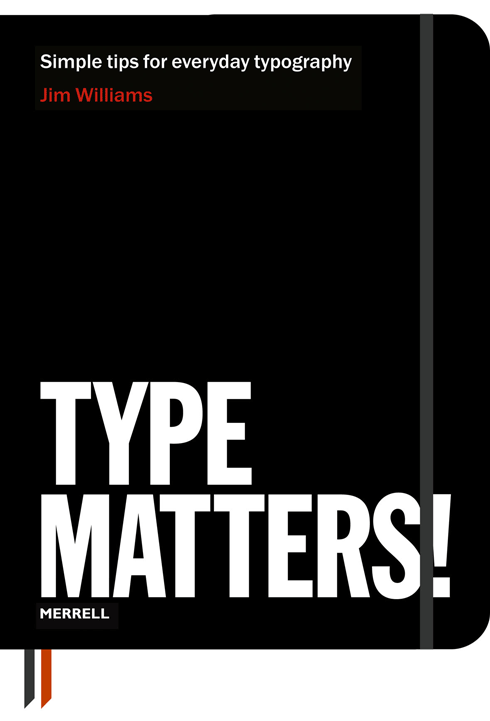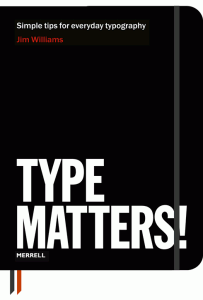 What a cover! Publishers Merrell please take a bow for committing to such a stylish and lusciously soft black leather flexi binding with moleskinesque ribbon placeholders and elastic closure. This is tantamount to pure typographic titillation as you caress the embossed reversed type and stroke the spine for the umpteenth time. Print porn if you like. Ergonomically erotic.
I'm happy to say that once you finally manage to venture inside the content itself doesn't disappoint either.  Jim Williams' passion for type and his accrued knowledge over many years as a typographer in the advertising industry (including a spell working under the esteemed Maggie Lewis) punctuate the book from start to finish; he writes simply, clearly and informatively on a subject that will engage type lovers everywhere, be they complete novices or seasoned professionals.
The book's strapline is "simple tips for everyday typography" and that's pretty much what you get, with sections on type basics (including the ever useful type anatomy illustration), selecting type and setting text. Williams is adept at explaining what makes for bad typography as well as good which is often the best educational approach; examples are well laid out, side by side at full page scale, to clarify his points.
If there's one criticism, and it's a small one, it is the over reliance on fonts from the Bitstream & Adobe libraries to illustrate his tips and create the specimens; a little more diversity of type choice with more of a nod to contemporary classics could have enhanced the book even more. That said, the use of more traditional, tried & tested faces such as Adobe Garamond is perhaps more fitting in this particular setting, where the principles and advice are the key factors.
Type Matters is intended as an introductory guide but there's something for every level of type user in this book (the reader's marks spread taught me some things I hadn't seen before) and it should be compulsory best practice reading for anyone studying or working in graphic design. Type does matter, it's the cornerstone of written communication, and Jim Williams' unassuming reference book is highly recommended.
Click on an image below to bring up the gallery viewer.
Author: Jim Williams
Foreword: Ben Casey
Publisher: Merrell
ISBN: 978-1-8589-4567-5
Pages: 160
Additional images courtesy of I Love Typography & Cool Hunting